Make or Buy ?
How to consider early on, that partial functions (i.e. application tests) may need to remain in-house ?

How to consider early on, that the predetermined general contract manufacturer receives the same favorable terms from the external suppliers ?

How to consider other initial expenses, such as for relocation of warehouse facilities ?
In these cases, our Make-or-Buy Comparator MABCO2010 will help you decisively !
It structures all costs involved

It takes into consideration the special conditions of restucturing

It brings transparency and helps tu justify your decisions to your management
Note:
This software tool is currently under development. Relevant information will be announced under "News and Downloads"
Typical example for a Make-or-Buy Analysis or an intended relocation of production:
Mechanical processing of precision parts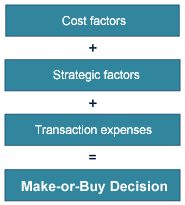 A decision for relocation or external production is a managerial decision, based on cost criteria. It will not be sufficient to only make a cost calculation.

There are risk factors, which need to be considered, i.e.:
Socially acceptable personnel reductions
Underestimation of relocation expenses and possibly loss of know-how
Start-up problems caused by incompatible tooling or software, resulting in qualtity and consequential error costs