Sustainable success through proper Global Sourcing
Proper Global Sourcing can bring big savings for the company and create the decisive advantages when compared to the competitors. Our target is to support trade and industrial companies with efficient software tools, especially
To find the right suppliers, which beyond the right pricing - also meet the strategic requirements

To identify possibilities for savings and cost reductions, make them transparent and implement them

To identify possibilities for optimization, i.e. regarding freight charges

To train employees in procurement and in closely related functions in workshops in order to acquaint them with the application of tools and their optimum use.
We provide you with professional software tools to identify savings and to demonstrate them in a transparent and easy to understand way.
Using a MS Excel based Tool with Graphic Analysis !
Therein included is the decades long experience in Global Sourcing as well as the professional utilization of the possibilities that MS Excel offers. More information about the tools is available in the section "Tools and Services". Our tool comprises decades of experience in global sourcing as well as the professional possibilities of MS-Excel.
In addition, we offer:
Individual consulting and in-house training regarding the tools and their use

Referral of technical competent partners in Asia on site, who are familiar with local conditions and can become active on your behalf as your sourcing scout
Well-planned Approach
We support you with simple but professional tools in your day-to-day business:
Well-planned supplier selection
Precise identification of potential savings under consideration of strategic requirements

Identifying cost optimizing opportunities with a simple freight calculator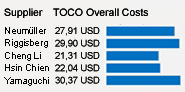 Examplary extract of the English version of the software tool TOCO2010